Last updated: 12/1/2022
At Appalachian Wireless, we are constantly striving to enhance our network and relationships with roaming partners to provide the best possible experience for our customers. These enhancements can lead to significant changes as older technologies are replaced with newer ones. One such change is expected to happen later this year.
By the end of 2022, we are scheduled to shut down 3G services on our network. Some roaming partners across the nation have already shut down their 3G networks, with the remaining also targeting the end of 2022. To prepare for this 3G shutdown, we need to ensure you have a device that is set up for Voice over LTE (VoLTE) service.
What is happening and why?
Technology is constantly evolving, and we want our customers to reap those advancements. Appalachian Wireless, along with other carriers across the nation are shutting down their 3G networks, making room for more advance services, including 5G. Appalachian Wireless does not expect to fully shut down its 3G network until the end of December 2022. However, parts of the network will retire sooner, which will impact service.
Some of our roaming partners have already begun this shut down, which may be impacting your wireless experience while traveling. Due to these changes, 3G mobile phones and certain older 4G mobile phones that do not support VoLTE will be unable to make or receive calls (including calls to 911), send or receive text messages, or use data services.
When is it happening?
For Appalachian Wireless subscribers, parts of the 3G network will shut down in phases. 3G voice services are expected to cease officially on January 3, 2023, while other services like 3G data may be discontinued sooner.
Some carriers have completed the shutdown of their 3G networks, while others are scheduled to occur by the end of 2022 according to the FCC's website.
AT&T announced that it phased out its 3G network beginning in February 2022.
Verizon announced that it will finish shutting down its 3G network by December 31, 2022.
T-Mobile announced that it finished shutting down Sprint's 3G CDMA network as of March 31, 2022 and Sprint's 4G LTE network as of June 30, 2022. It also announced it shut down T-Mobile's 3G UMTS network as of July 1, 2022, but has not yet announced a shutdown date for its 2G network.
What do I need to do?
If your mobile device is more than a few years old, you may need to upgrade your device. Some devices may only require a software update to enable VoLTE. You should be able to check if your device is 4G LTE (with VoLTE) enabled by checking your phone's settings, user manual, or by searching for your phone model online by using the tool below. If you need assistance in determining whether your device will be impacted, please contact us.
Click here to see if your device supports VoLTE
Does this just impact phones?
No. Other devices, such as tablets, smart watches, vehicle SOS services, home security systems, and other connected products may be using 3G network services. And don't forget about devices that use cellular connectivity as a back-up when a wired internet connection goes down. If the device is not labeled, contact the monitoring company or other service provider to confirm how the device connects and whether your device may be impacted.
Why are 3G networks being phased out?
As mobile carriers seek to upgrade their networks to use the latest technologies, they periodically shut down older services, such as 3G, to free up spectrum and infrastructure to support new services, such as 5G. Similar transitions have happened before. For example, some mobile carriers shut down their 2G networks when they upgraded their networks to support 4G services.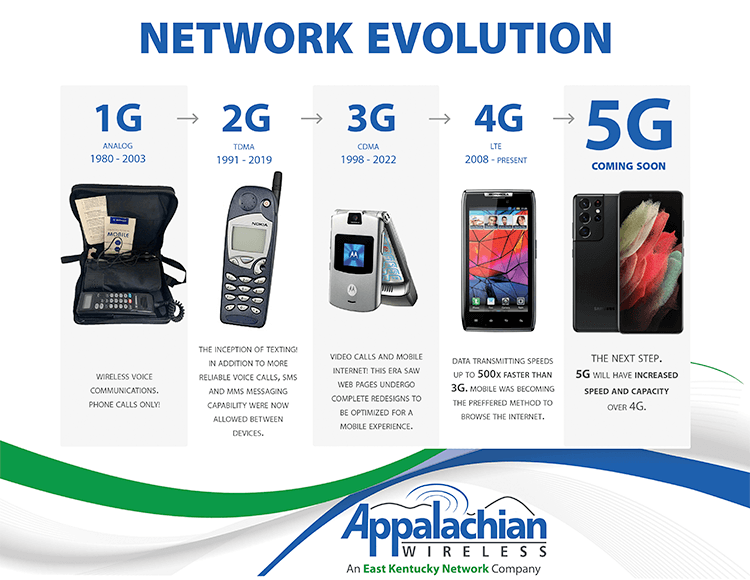 How can I get more information?
For more information on how you can prepare, please visit one of our retail locations or call our customer service department at 1-800-438-2355 or by dialing 611 from your Appalachian Wireless phone. We are available to take your call from 7 AM-7 PM Monday thru Friday and 8 AM-2 PM on Saturdays.
Learn about CDMA-less technology